Linda Knight – Adult Services Librarian
Matheson Memorial Library hosts three book clubs per month.  The Page Turners meet on the 1st Wednesday of the month at 6:30pm, the Afternoon Book Club meets on the 3rd Tuesday of the month at 2:00pm, and the Short Story Book Club meets the 4th Tuesday of the month at 7:00pm. You can check out a copy of the book club selection 3-4 weeks prior to the book club meeting. Meetings for the Page Turners and the Afternoon Book Club are held at the library. The Short Story Book Club meets at Mama T's Restaurant, 781 E. Geneva Street in Elkhorn. All our book clubs are facilitated by staff librarians.
2021/2022 Selections:
Pageturners Book Club (1st Wednesday at 6:30pm)
Oct. 13: The Good Sister by Sally Hepworth
Nov. 10: The Four Winds by Kristin Hannah
Dec. 8: Eternal by Lisa Scottoline
Jan. 5: The Last Thing He Told Me by Laura Dave
Feb. 2: Lightning Strike by William Kent Krueger
Mar. 2: The Guest List by Lucy Foley
Apr. 6: A Slow Fire Burning by Paula Hawkins
Afternoon Book Club (3rd Tuesday at 2:00pm)
Oct. 19: The Children's Blizzard by Melanie Benjamin
Nov. 16: The Music of Bees by Eileen Garvin
Dec. 21: Anxious People by Fredrik Backman
Jan. 18: The Guilt Trip by Sandie Jones
Feb. 15: Shoulder Season by Christina Clancy
Mar. 15: Three Sisters by Heather Morris
Short Story Book Club (4th Tuesday at 7:00pm)
Oct. 26: Pickman's Model by H.P. Lovecraft
Nov. 23: A Scandal in Bohemia by Sir Arthur Conan Doyle
Jan. 25: The Quantum of Solace by Ian Fleming
Feb. 22: To Build a Fire by Jack London
THE ADULT SUMMER READING PROGRAM
Each summer the library runs a very special event for our adult patrons: the adult summer reading program! We solicit amazing prizes from our local community business partners, and award these to our adult participants at the end of summer. Each book read gets a participant a grand prize drawing, so the more you read, the better your chances are of winning! We also plan weekly events like cooking programs, musicians, and speakers on many different topics to keep you entertained, engaged, and educated the whole summer long.
Thanks for participating in our 2021 adult summer reading program…see you in 2022!

MEMORY CAFE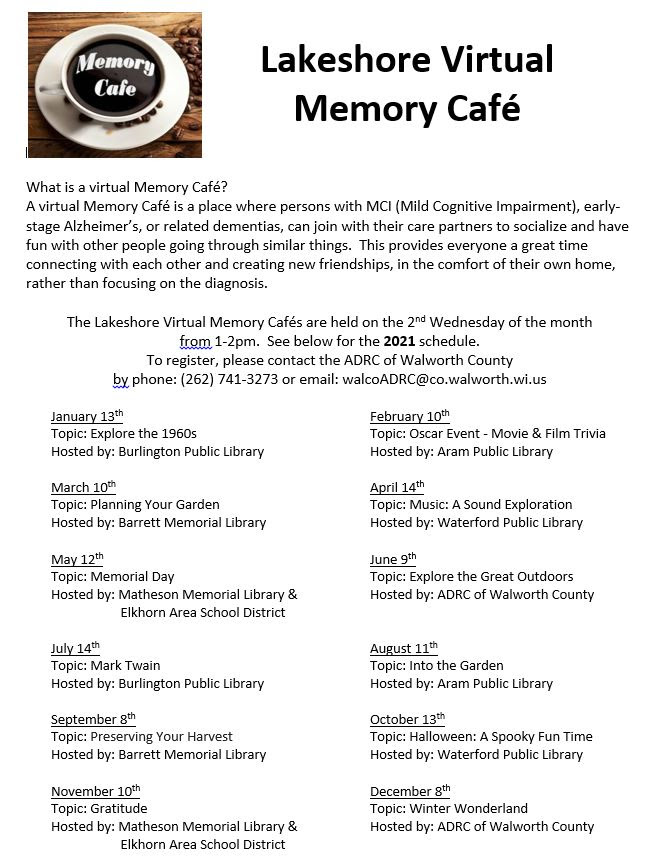 BOOK A LIBRARIAN
The library has a free service to help with any technology related issues you might have.  Things we cover include help with downloading eBooks, setting up an email account, downloading and using apps, and basic troubleshooting.  Read all about it HERE!
WALWORTH COUNTY GENEALOGICAL SOCIETY (WCGS)
Located in the Mary Bray Room (2
nd
floor). Walworth County Genealogical Society began in 1988 and has been serving researchers since that time.  Our members staff the room every Tuesday from 10:00 am until 3:00 pm, from 3:30 pm to 7:00 pm each third Tuesday of the month, and on the 3
rd
Saturday of each month from 10:00 am until 2:00 pm, and by appointment..  We welcome the opportunity to help visitors research their ancestors free of charge.  The public is invited to browse through our collection of genealogical resources from all over the world. See the
WCGS site
for more information.  Access Heritage Quest via our Digital Resources page on our website and Ancestry.com on our library internet stations. For more information please call the WCGS directly at (262) 723-9150.
Our society holds meetings the first Tuesday of each month at the Community Center in Delavan, WI starting at 6:30 pm where we present speakers on a variety of genealogical subjects.
MML DUNGEONS & DRAGONS GROUP
Each 1st and 3rd Tuesday of the month at 6:30 pm, the library's Dungeons & Dragons group meets up to find treasure, defeat monsters, use their imaginations, and have a great time. This open group is welcome to everybody, and if you don't know how to play, we'll teach you! We usually have 2 to 3 ongoing adventure sessions going on, which you're welcome to join. Grab your sword and your spellbook and adventure with us!
Contact Adult Services Librarian Chad Robinson for more details: crobinson@elkhorn.lib.wi.us