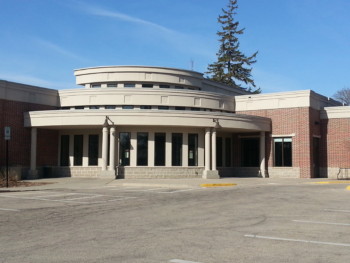 Matheson Memorial Library (MML) is located in downtown Elkhorn, at the intersection of Wisconsin Street & Court Street. MML has 5,828 resident borrowers and 5,620 non-resident borrowers for a total of 11,448 card holders. The library serves residents in the following areas: City of Elkhorn, La Grange, Geneva, Sugar Creek, Lafayette, Delavan Township.
How is the library funded?
2020 revenues were as follows:
$417,013 from City of Elkhorn
$492,156 from Walworth & other County taxes
$46,247 other revenue (fines, donations, interest, etc.)
2020 Report
153,366 Total circulation
29,156 SHARE items loaned out
29,368 SHARE items borrowed
18,694 eBook & audio book checkouts (a 15% increase from last year)
44,287 In-Person visits
4,647  Uses of library computers
3,305 Children & Teens attended 170 Programs
1,244 Adults attended 134 Programs
6,691 new items added to the collection
Accomplishments in 2020
New screen and AV equipment in the Community Center
New cabinets in our staff break room
Completed landscaping project on the south side of the library
Services at the Library were greatly impacted by the Covid-19 pandemic in 2020.  We were closed for over two months and had limited hours when we reopened. Most of our regular programs and services were cancelled or went virtual. 
Summer Reading Program for all ages
Afternoon & Evening Book Clubs and offsite Short Story Discussion Group
Free internet access through Wi-Fi and high speed broadband
Educational, informational and cultural programs
Online Services from your Library
Ebooks, audiobooks, video and music via Wisconsin's Digital Library at dbooks.wplc.info
Reference Solutions, source of business and residential information for reference and research
Access to HeritageQuest genealogy database
GaleCourses and LinkedIn Learning free continuing education classes
Kanopy video streaming service
Brainfuse homework and educational database (New in 2020)
Creativebug crafting and artistic projects database (New in 2020)
Hoopla free eBook, audiobook, and video streaming service (New in 2020)